Mugello, Italy – EMS Race Team is returning to action for the Ferrari Races in Italy this week. Driver James Weiland and his team from Rossocorsa and R3 Motorsports are scheduled to compete at the world-famous Mugello Circuit on Thursday and Friday. It will be the team's first race since last year.
Seeing the Electronic Merchant Systems 488 Challenge EVO back on the track will be a welcomed sight for racing fans. Weiland, a former Ferrari Challenge North America Champion, arrived with his team in Florence, Italy last week for testing. Despite some early adversity, they are locked in and ready to go.
"It's been a long time, but we are excited to be back competing," Weiland said. "We arrived last Friday for testing over the weekend. Unfortunately, ERIN was damaged severely as we were unceremoniously blown up on an out lap in the final session on Sunday.
"She will be fixed and fine, but not right away. So, we will be in a backup car on Thursday and Friday while racing to raise awareness for Coach Sam's Inner Circle Foundation, Cornerstone of Hope, and PETA Cruelty Free."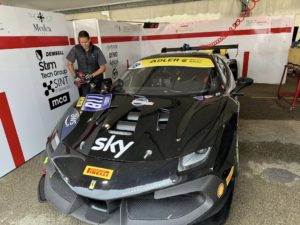 The backup car that EMS will be racing is pictured above. Coach Sam's Scholar's mission is to provide educational support to at-risk children through literacy, personal development, and health and fitness programs designed to develop the whole child. People for the Ethical Treatment of Animals (PETA) is the world's largest animal rights organization.
Products proudly displaying the bunny logo are cruelty-free, meaning they were produced without animal testing. Cornerstone of Hope, meanwhile, provides support, education, and hope for the grieving.
Thursday's Race 1 Recap from Mugello, Italy:  
Race 1 went pretty well on Thursday in the rain under the circumstances. We started 20 of 37. Moved up to 14 over the first few laps. We didn't quite pull off a side-by-side move in the fast Lavelli left-hander, and our competitor tapped us and spun us.
We lost a few positions and about 15 seconds after that. Got that same car in the last corner to finish P17.
Our fast lap was P7. We are getting there but a lot more to do. On Friday, Race 2 goes at 7am ET broadcast live on live.ferrari.com
For behind-the-scenes coverage of EMS Race Team at Mugello throughout the weekend, follow along on Facebook, Twitter , and Instagram.  You can also stream the racing action live at Ferrari.com.