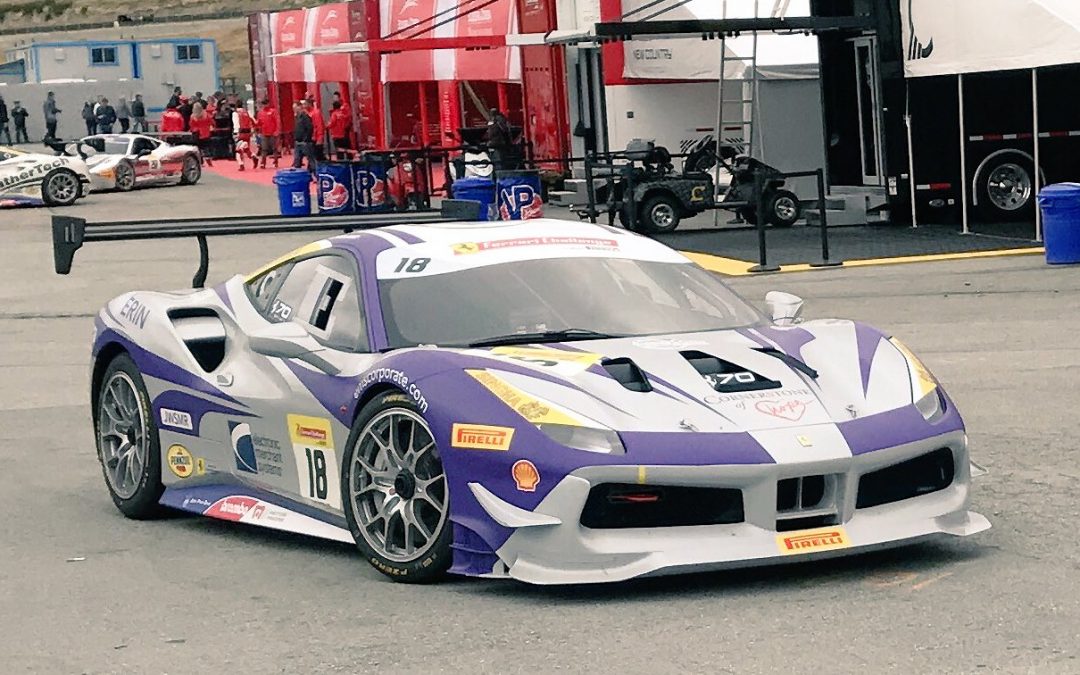 The legendary Dale Earnhardt once said that finishing races is important, but racing is more important. During Round 1 of the Ferrari Challenge at Mazda Raceway Laguna Seca, driver James Weiland and the Boardwalk Ferrari crew got back to the important business of racing. They finished their first race since securing the Trofeo Pirelli AM season championship in December, after being moved up to the pro class to begin the 2017 campaign.
"It was great to get back on the track with our team at Laguna Seca," Weiland said. "We found out just before the race that we had been moved up to the Trofeo Pirelli pro class and knew it would be a very tough test competing against a collection of excellent drivers. But for the first race of the season, we felt like we had a great effort all around and learned a lot throughout the weekend."
After qualifying 10th in the Trofeo Pirelli class for Sunday's race, Weiland moved up three spots to earn a 7th place finish. It was not only EMS Race Team's debut competing in the pro class, but also the first time they were driving their new car, Erin, the ems+ Ferrari 488 Challenge trimmed in purple. The new model that was introduced this season will take time for drivers and teams to learn, but it's a car that Boardwalk Ferrari Team Partner, Rudy Courtade, has been impressed with thus far.
"We're really excited that we have a new model being introduced this year," Courtade said of the new Ferrari 488 Challenge. "The 488 is now an extra 125 horsepower with an extra 100 pounds of torque. Twin-turbo, incredible power, with multiple selections for ABS, traction control and also stability control. So, the car is sophisticated. If you haven't looked inside the car, it looks like a jet fighter cockpit. I think this car is going to be something to contend with in all different racing series."
Inside the @ferraridallas garage at @MazdaRaceway Laguna Seca with @R3_Motorsports discussing features of the new Ferrari 488 Challenge pic.twitter.com/9SbNtSWz4p

— EMS Race Team (@emsRaceTeam) May 14, 2017
Erin once again features the logos of PETA Cruelty Free and Cornerstone of Hope. This season, Coach Sam's Inner Circle Foundation is also featured just below the windshield. Coach Sam's mission is to provide educational support to at risk children through a combination of literacy, personal development and health and fitness programs designed to develop the whole child. Since 2009, Coach Sam's has been successful in reaching hundreds of children and motivating them to believe in themselves, leading to improved academic performance and self-confidence, setting them on the path toward a brighter future.
"This is the first year we'll be racing to raise awareness for Coach Sam's Inner Circle Foundation and we're very excited about that," Weiland said. "The work they do helping children in Cleveland's public schools is inspiring. We also continue to be inspired by Cornerstone of Hope and PETA Cruelty Free, and we were honored to represent those missions at Laguna Seca this weekend."
Round 2 of the Ferrari Challenge will be held at Circuit Gilles Villeneuve on June 9-11. For more behind-the-scenes coverage from Mazda Raceway visit EMS Race Team on Facebook, Instagram and Twitter. You can also visit EMS at emscorporate.com and EMS Race Team at emsraceteam.com.