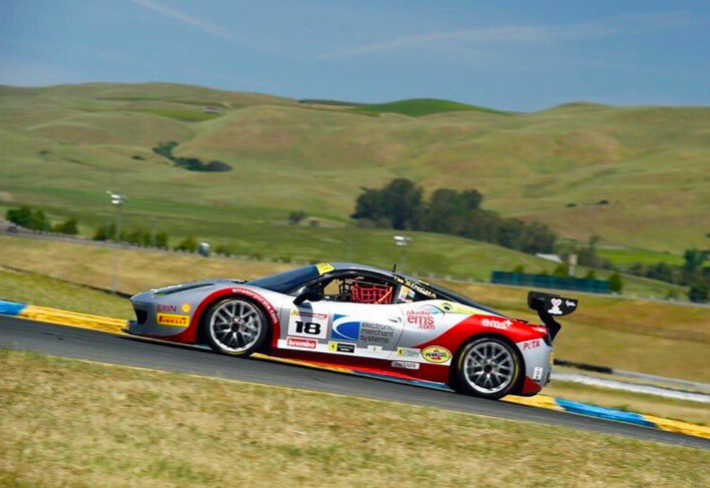 After earning a pair of victories in the Asia Pacific Ferrari Challenge event at the Suzuka Circuit in Japan, EMS Race Team returns to action on U.S. soil later this month. From April 8-10, driver James Weiland and the crew from Boardwalk Ferrari will look to build on their early season momentum at the Sonoma Raceway in California. This highly anticipated event marks the 11th consecutive year that Sonoma has hosted the Ferrari Challenge North American Series.
"Our goal as a team is to always get better," Weiland said. "We accomplished some things in Japan that we are certainly proud of, but that's behind us now. Sonoma Raceway is an exciting track that presents its own set of unique challenges. We also know that we haven't broken through to win at Sonoma yet. So we're focused on doing everything we can to be as prepared as possible for the stiff competition, and using this as another opportunity to improve as a team."
Unlike his inaugural trip to Suzuka in March, Weiland and his coach, Conrad Grunewald, will be able to draw on past experience in preparation for Sonoma. This is a track EMS Race Team has competed on before, finishing second as recently as last May. This year, however, Weiland hopes to raise awareness for PETA Cruelty Free and the Cornerstone of Hope by leaving California with a victory—or two.
"Last year we had mixed results in Sonoma," Weiland added. "While we did earn a podium finish during Race 1, we also experienced a setback that prevented us from finishing Race 2. It will be great to get back out there with a fresh start, learn from our previous trips, and put forward our best effort all weekend long."
Despite Weiland's experience at Sonoma, this time he will be driving a different car than in years past. Paris, the ems+ 458 Ferrari Challenge EVO who made her debut at the Daytona International Speedway earlier this year, will be unleashed for the first time at Sonoma. In 2015, it was Paris' sister, Erin, who roared through the hills of wine country for EMS Race Team. It was also Erin who helped fuel the recent victories in Japan. But like her older sister, Paris will also be proudly waving the flag for the two charities close to Weiland's heart throughout the competition.
"It was great to be in Japan and talk with the drivers, fans and media about PETA Cruelty Free and the Cornerstone of Hope," Weiland said about the two causes that fuel the fight for EMS Race Team. "Heading back to Sonoma, we hope to do the same thing. Nothing catches people's attention more than winning, so we hope to raise as much awareness as possible for both efforts during our trip."
By Brendan Bowers, Posted by SB
For updates throughout the Ferrari Challenge weekend in Sonoma, along with live-timing race results, follow @EMSRaceTeam on Twitter and Facebook. Also be sure to check out EMS Race Team's Vimeo Page for behind-the-scenes action following the competition.