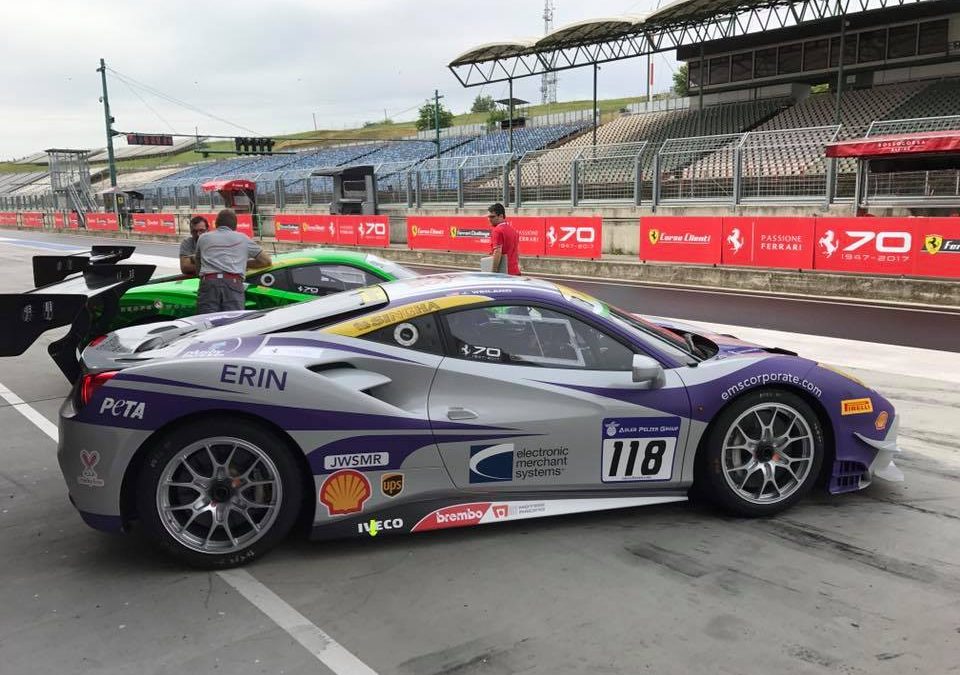 EMS Race Team is traveling around the world to raise awareness for PETA Cruelty Free, Cornerstone of Hope and Coach Sam's Inner Circle Foundation. This past weekend, they visited Budapest, Hungary to compete in the Ferrari Challenge at the Hungaroring Circuit. They brought along Erin, the ems+ Ferrari 488 Challenge, who'd race in the capital city of Hungary. With a population of 1.8 million people, Budapest is one of the largest cities in all of Europe. After competing in California and Quebec to kick off the 2017 Ferrari Challenge, this marked the first time that Erin and driver James Weiland raced overseas this season.
"Having the chance to travel around the world and raise awareness for the causes close to our heart is a tremendous opportunity for our team," Weiland said. "To be able to do that in Hungary and race at the Hungaroring was an awesome experience. We really enjoyed the culture as well as the drivers and fans we met throughout the weekend. It was certainly a challenging track and the drivers here in Europe are extremely talented. We were hoping for better results, but we learned a lot and improved as a team which is always our goal."
Despite struggling with an intermittent electronic issue, Erin responded well on Sunday to the adjustments made by the Boardwalk Ferrari crew throughout the weekend. Due in part to those technical issues, EMS finished in 8th position in Race 1. After qualifying 6th for the second-straight day on Sunday, however, Erin fought hard throughout Race 2 picking up one spot to finish 5th. She was closing in on the two cars in 4th and 3rd position down stretch, making up considerable ground before simply running out of laps.
"It was good racing out here with these drivers," Weiland added of his European competitors. "But while we definitely have work to do as a team, we were proud to represent PETA this weekend after everything they've accomplished recently. We were proud to represent Cornerstone of Hope and Coach Sam's Inner Circle Foundation, too, but we dedicated the weekend Gajraj as a way of saying thank you to everyone involved in helping bring him home earlier this month."
After spending 50+ years chained near popular tourist spots in India, Gajraj the elephant was rescued by PETA and a team of supporters in June. Gajraj's treatment sparked a global #FreeGajraj campaign led by PETA India and its international affiliates. The elephant is now living in an Elephant Conservation and Care Centre (ECCC) in Mathura, receiving vital veterinary treatment and beginning his integration into the company of fellow elephants after all these years alone following the rescue.
Next up for EMS Race Team is the Ferrari Challenge at the Circuit Paul Ricard in France on July 22-23 as the world tour continues. Constructed in 1970 by Paul Ricard at Le Castellet in the south of France, the circuit was the first of the modern autodromes. The track is characterized by its long Mistral straight (1.8 km) and elongated design built on a plateau. The length of the full track is 5.861 km (3.642 mi) and it's known for its black and blue runoff areas known as the Blue Zone. It quickly became the premier venue for French motorsport upon opening, hosting its first French Grand Prix in 1971. After a hiatus, the track now owned by Bernie Ecclestone announced a return of the Formula 1 French Grand Prix in 2018.
For more on Cornerstone of Hope, Coach Sam's Inner Circle Foundation and PETA Cruelty Free check out their websites. For behind the scenes coverage of the Ferrari Challenge in Hungary visit EMS Race Team on Facebook, Twitter and Instagram.