EMS Race Team roared through wet conditions at the Nurburgring Circuit in Germany to capture back-to-back Ferrari Challenge victories this past weekend. The two P1 finishes give driver James Weiland and his team from Rossocorsa, R3 Motorsports and Ferrari of San Francisco their ninth podium and third victory of the year overall. The latest results also moved Weiland and ERIN the Electronic Merchant Systems Ferrari 488 Challenge Evo into first place in the Ferrari Challenge Europe Driver Standings.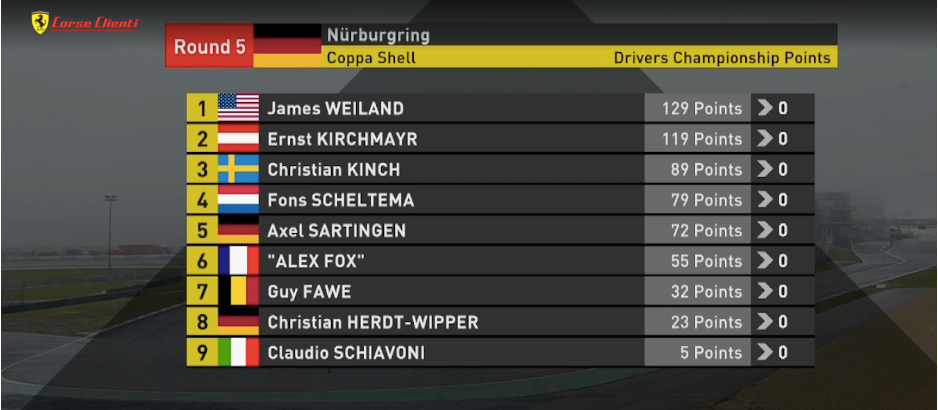 After securing a P1 and P2 finish in Italy to open the 2021 campaign, EMS added double-podiums in Austria and the Czech Republic before podium No. 7 in Spain. The two wins in Germany—along with earning the Fastest Lap—helped Weiland total 129 points through Round 5. That was enough to wrestle the series lead back from Ernst Kirchmayr (Baron Motorsports), who had been up by two heading into the weekend. Following the Race 1 win on Saturday, Weiland discussed how he approaches the start of each race and the mentality that put his team in position to succeed at Nurburgring.
What the #FerrariChallenge Europe winners said after today's races at @nuerburgring?! Watch their interviews ?@pirellisport @ShellMotorsport #Ferrari488ChallengeEvo #FerrariCorseClienti #FerrariRaces pic.twitter.com/WXrR6ZUFrp

— Ferrari Races (@FerrariRaces) August 28, 2021
"They say all the time that you can lose the race at the start but you can't win it," Weiland said. "And that's very true. I'm always looking to get a good start and take an opportunity if it's there. But the first thing is to get through the start and then go racing. I just try to keep my line and look for an opportunity and I'm relatively calm about it."
Watch ERIN the Electronic Merchant Systems Ferrari 488 Challenge Evo cross the finish line for the win on Saturday in Germany.
ERIN the @EMScorporate Ferrari 488 Challenge Evo earns a @FerrariRaces victory at Nürburgring in Germany! pic.twitter.com/5W3CSjoTHs

— EMS Race Team (@emsRaceTeam) August 28, 2021
What made the weekend even more special is that the EMS Race Team Reserve Driver, Max Weiland, also earned a victory during his race at the GoPro Motorplex in North Carolina. Racing against top-level competition, Max put in a storming drive to move from 9th to 3rd in the PreFinal and 3rd to 1st in the Final to win the MicroSwift Feature Race in Charlotte.
"Wins are hard to come by in racing so we're grateful to have been able to experience a weekend like we just had," Weiland added. "We're also excited to be able to dedicate the three victories our team just earned to our friends at PETA Cruelty Free, Coach Sam's Scholars and Cornerstone of Hope who we are extremely grateful for as well."
PETA Cruelty Free, Coach Sam's Scholars and Cornerstone of Hope are the missions that EMS Race Team continues to help raise awareness for while criss-crossing Europe in the Ferrari Challenge. People for the Ethical Treatment of Animals (PETA) is the largest animal rights organization in the world, with more than three million members and supporters. Products proudly displaying the bunny logo are cruelty-free, meaning that they were produced without testing on animals. Coach Sam's Scholars' mission is to provide educational support to at-risk children through a combination of literacy, personal development and health and fitness programs designed to develop the whole child. Cornerstone of Hope, meanwhile, is dedicated to providing support, education, and hope for the grieving.
For behind-the-scenes coverage of the Ferrari Races throughout the 2021 campaign, follow EMS Race Team on Facebook, Twitter, and Instagram.