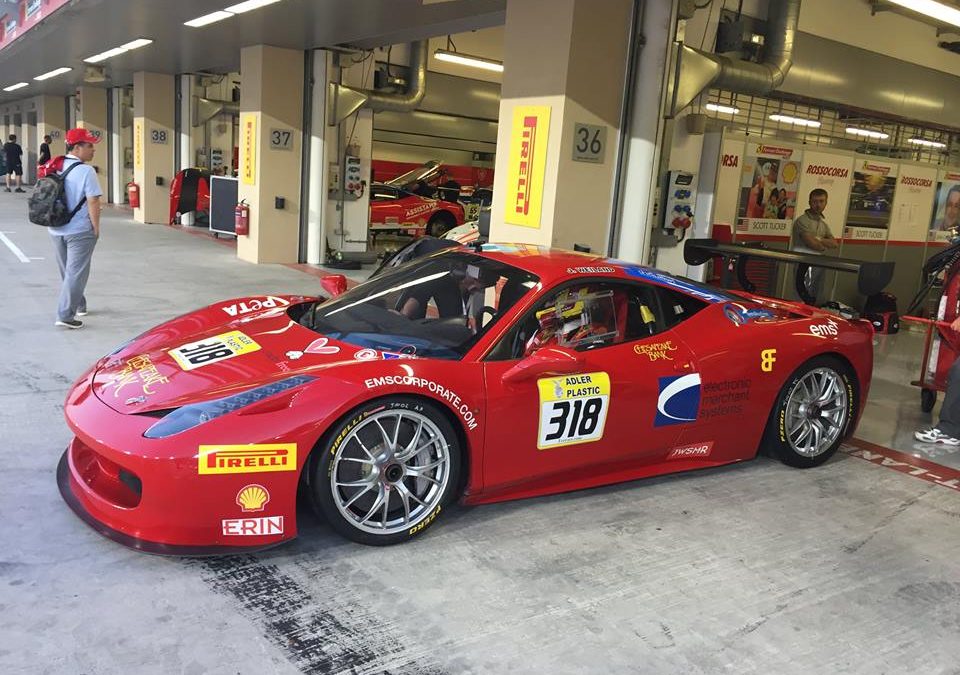 EMS Race Team traveled to Abu Dhabi for the Ferrari Challenge World Championships earlier this month. After posting two first-place finishes at Circuit of the Americas during the previous race weekend, driver Jim Weiland and his team departed from Cleveland Hopkins Airport expecting a difficult task in the World Finals.
Despite not capturing any podiums, Weiland's speed was good enough to qualify 2nd in the North American Class on Thursday and Friday. He also qualified 3rd of 30 cars on Saturday vs. his worldwide competition in the World Finals. Race results weren't what he hoped for, as there were some difficulties, with a 4th, DNF and a 7th in the World Finals. But nevertheless, there are some exciting videos to watch.
"The experience was amazing. It really opens your eyes to the great aspects of different cultures all over the world," Weiland said, upon returning from his trip from Abu Dhabi. "The racing was highly competitive and challenging, but the opportunity to see so many new things and experience a whole new culture on this level was truly awesome."
What was also awesome was Weiland's ability to raise awareness for the PETA Cruelty Free campaign during his trip. On Ferrari's biggest stage, he gladly answered all who asked what the bunnies featured his Ferrari 458 Challenge EVO represented.
Alert. The @peta bunnies have arrived safely in Abu Dhabi for the Ferrari Challenge World Finals. pic.twitter.com/l1ibMoXtL9

— EMS Race Team (@emsRaceTeam) December 2, 2014
@emsRaceTeam YAY! 🙂 — PETA (@peta) December 2, 2014
Pretty good day of practice here @ymcofficial as we finished P1 in class in practice. pic.twitter.com/YIuA70ReHU

— EMS Race Team (@emsRaceTeam) December 3, 2014
Race 2 ended in dramatic fashion before the first lap was finished. See video in the tweet below:
Slump.No other way to describe it.MUST WATCH VIDEO.Got bottled up at start/slipped into clutches of brave but messy. https://t.co/CdQMKAvZKU

— EMS Race Team (@emsRaceTeam) December 5, 2014
This was good – starting third, and grabbing second on the first corner:
World Finals Abu Dhabi 12/6/14 Start from EMS Race Team on Vimeo.
Abu Dhabi Yas Marina Night Practice from EMS Race Team on Vimeo.
During each of the days they were there, EMS Race Team posted updates on Facebook and Twitter. Make sure you're following on both platforms for more behind-the-scenes coverage next time. For now, below are some pictures from the trip.
On Friday night, EMS Race Team attended a season-ending awards banquet celebrating another year of the Ferrari Challenge. Two thousands people were invited to the exclusive, first-class ceremony hosted at Ferrari World in Abu Dhabi. Ferrari World is an amusement park located on Yas Island in Abu Dhabi. It is the largest indoor theme park in the world. Weiland was called to the stage to receive a trophy for finishing 3rd overall in the Ferrari Challenge Coppa Shell division this season. He and his team also feasted on a Ferrari cake that makes Johnny Manziel's viral birthday cake look more like a pastry.
And to everyone following along Twitter and Facebook throughout the trip, Weiland offered the following earlier this week:
"Thanks everyone for all the kind words and it is nice to be able to share these experiences and I hope you enjoy them at least a little. Qualifying 3rd in the world for the race was pretty good. Finishing 7th not so much. 3rd in the North American Series for the season decent. Daytona testing next Monday. Got to get better!"
More pictures from EMS Race Team's trip to Abu Dhabi are at Facebook.com/emsRaceTeam and on Twitter @emsRaceTeam.