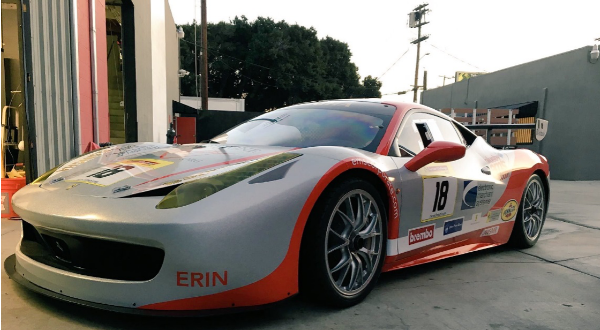 The Ferrari World Finals will be held on December 1-4 at Daytona International Speedway in Florida. The Ferrari extravaganza begins on Friday night with racing under the lights, and continues throughout Saturday and Sunday. During the first two days of action, Ferrari Challenge drivers from all over the world will compete for season championships in the North American, European, and Asian Pacific series. With more than 40 cars on the track for each race, the competition expects to be crowded and stiff. But EMS Race Team driver, James Weiland, and his crew from Boardwalk Ferrari are looking forward to the opportunity.
"It's exciting to be hosting the Ferrari World Finals, in a sense, at a North American series location," Weiland said of the upcoming races in Daytona, Florida. "We've traveled to compete in the Ferrari World Finals in places like Abu Dhabi and Italy in the past, and it was amazing. So I think it will be a very fun and entertaining weekend, and a great experience for everyone at Daytona International Speedway. Our team is certainly looking forward to the challenge."
By Saturday night, a season champion will be crowned for each class and series. EMS Race Team is currently in second place, but has an opportunity to close out the season in first with some solid racing and a little bit of luck. On Sunday, the chance to compete for a world championship during a third race at Daytona will conclude a star-studded weekend of Ferrari racing for EMS and all those in attendance.
Sebastian Vettel and Kimi Raikkonen will also be driving their Ferrari F1 cars at Daytona during an on-track exhibition for the fans. Meanwhile, former NASCAR champion, Rusty Wallace, will be competing in the Ferrari races at DIS per the following release.
From Daytona International Speedway:
"NASCAR Hall of Famer Rusty Wallace is going to return to the driver's seat for the upcoming Ferrari Finali Mondiali on Dec. 1-4 at Daytona International Speedway. The 1989 NASCAR Sprint Cup Series champion will battle the twists and turns of the "World Center of Racing's" 3.56-mile road course for the Risi Competizione/Ferrari of Houston team in the North America series of the Ferrari Challenge Trofeo Pirelli. Wallace will practice on Thursday, Dec. 1 followed by qualifying and racing on Friday, Dec. 2 and Saturday, Dec. 3.
"I hope that I can run strong in it and hopefully win but I'm realistic too," Wallace said. "I haven't been in a car in a long time. I'm going to have to knock a lot cobwebs off but I got the passion for it."'
Wallace's passion as a driver led to 55 victories and 36 poles during his NASCAR career. He along with Vettel and Raikkonen will infuse an already exciting event with even more energy, during a highly-anticipated weekend of racing.
"The Ferrari Finali Mondiali at Daytona will have a lot of eyes on it this year to be sure," Weiland added, with respect to the celebrity drivers appearing as well as the Ferrari drivers from many different countries around the globe.  "So, hopefully we can represent PETA Cruelty Free and the Cornerstone of Hope as well as we can, and get onto the podium a couple times. If we happen to win a season championship along the way, that's great too."
For more behind the scenes race coverage throughout the weekend follow @emsRaceTeam on Twitter, Instagram and Facebook for live updates. Also check out the Vimeo page as well for on-track footage following the race.