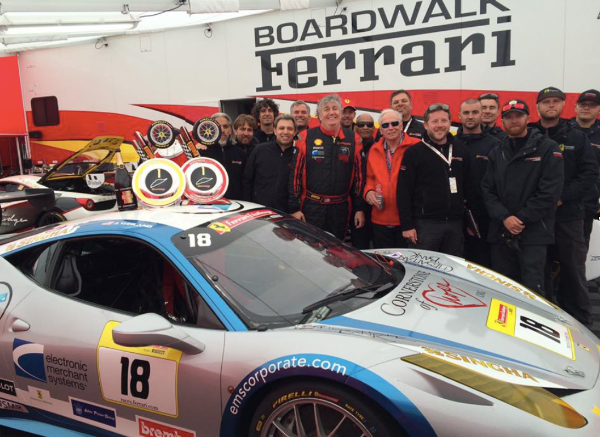 As the great Enzo Ferrari once said, what's behind you doesn't matter. Heading into the Montreal Ferrari Challenge, directly behind EMS Race Team was a pair of thrilling victories at the Circuit of the Americas in Austin, Texas. But in order for driver Jim Weiland and his crew to continue moving forward, there was no time to look back on past accomplishments. Competing in front of over 100,000 fans at the world-famous Circuit-Gilles-Villeneuve in Quebec, they would take full advantage of the opportunity at hand.
Despite a stacked field of talented drivers in a Ferrari Challenge race supporting the Formula One Canadian Grand Prix, EMS Race Team turned in another flawless performance. With the support of Coach Conrad Grunewald, along with Ryan Negri, Rudy Courtade, Dave, Daryl and Donald Cameron, Andrew Prendeville and the rest of the Boardwalk Ferrari crew, Weiland and company remained locked in throughout the weekend. By the conclusion of Race 2 on Sunday, Paris—the ems+ Ferrari Challenge 458 EVO—had pushed past the finish line in first place for the fourth-straight time dating back to Texas. 
"To follow what we accomplished in Austin with two more victories like this is truly a special experience for our team," Weiland said. "And to be able to have the type of success we did at this track, in front of all these amazing fans, it's hard to describe that feeling. I'm really just proud of my team for continuing to push and continuing to improve in all areas. Everyone pitched in to put Paris in a great position, and I just can't say enough about these guys."
Paris earned pole position for Race 1 before securing a commanding victory on Saturday. She took the lead on lap two and defended that spot for the duration, finishing 1st in the Trofeo Pirelli AM class and 4th overall. On Sunday, it was more of the same. Paris and Weiland earned pole position again before pulling in 1st in class and 4th overall as the checkered flag waved on a banner weekend for EMS. Competitors Marc Muzzo and Arthur Romanelli joined Weiland on the podium following Race 1, while Steve Johnson and Patrice Brisebois rounded out the top three in Race 2.
"We dedicated our Race 1 victory to the PETA Cruelty Free campaign on Saturday and the bunnies definitely helped us maintain a great pace," Weiland added. "During Race 2, we were proud to dedicate the victory to our friends from the Cornerstone of Hope. We encourage everyone to check out each website, and hope that some of the fans who saw Paris proudly displaying those logos throughout the weekend will do the same."
The Formula One competition began as soon as the Ferrari Challenge race concluded on Sunday. Lewis Hamilton of Mercedes followed his victory in Monaco with a first-place finish in the Canadian Grand Prix for the 45th win of his illustrious career. He was joined on the podium by Sebastian Vettel of Ferrari and Valtteri Bottas of Williams. Hamilton vowed to remained focused as the F1 season continued following the win in Canada.
"I feel incredibly grateful and very blessed to have had these two great weekends," Hamilton told BBC Sports after the race. "I'm just going to keep working hard. As you can see, I'm super-focused. Onwards and upwards hopefully."
For more behind-the-scenes coverage of the Ferrari Challenge in Montreal, follow @emsRaceTeam on Twitter and Facebook. Also be sure to visit EMS Race Team's Vimeo Page for on-track video action from race weekend.