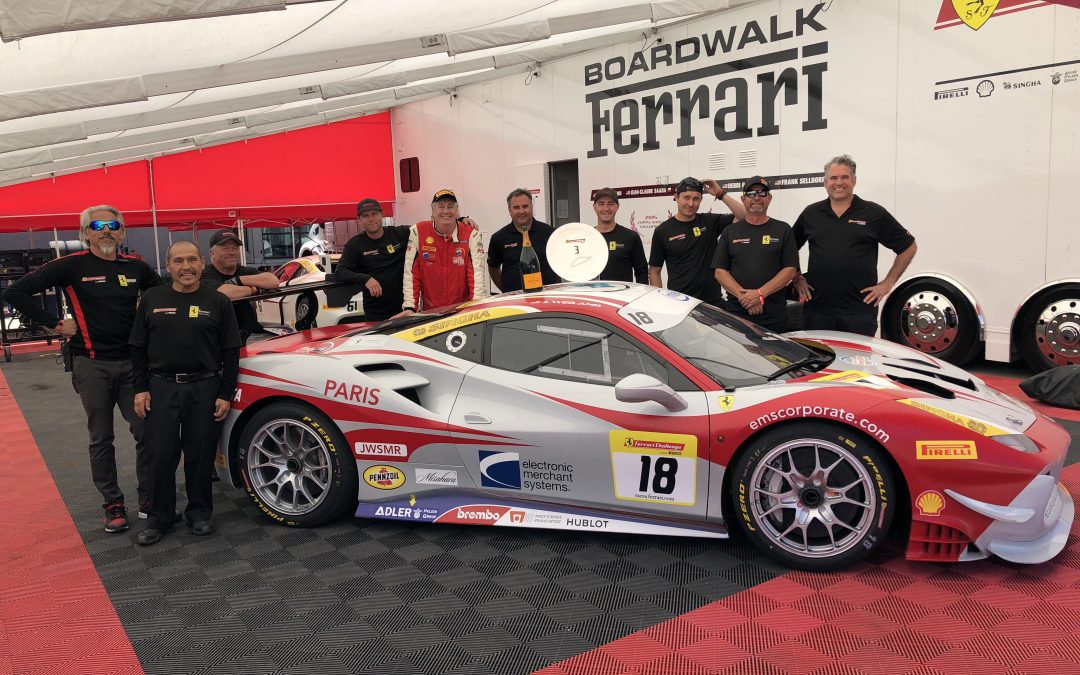 Major League Baseball Hall of Famer Hank Aaron once said, "Consistency is what counts. You have to do things over and over again." Throughout the 2018 Ferrari Challenge, driver James Weiland and the crew from Boardwalk Ferrari have made it count with consistency in their approach and execution over and over again. After earning a first-place finish at Spa in Belgium last time out, Weiland drove PARIS the ems+ Ferrari 488 Challenge to their sixth podium finish in a season that's made stops in Florida, Texas, Australia, New Zealand, Belgium and now Montreal. They earned the third-place finish during a support race for the F1 Canadian Grand Prix at Circuit Gilles Villeneuve while raising awareness for PETA Cruelty Free, Coach Sam's Inner Circle Foundation and Cornerstone of Hope.
"PARIS did it again," Weiland said following the race in Montreal. "Our Boardwalk Ferrari 488 Challenge snagged third overall at the start of the race and that's where we finished. Big thanks to Dave Cameron and R3 Motorsports' entire team for an excellent car. Nothing finer than being on the podium in Montreal during F1 weekend with family and friends here."
EMS Race Team qualified 4th out of 35 drivers for Race 1 and that's where they finished the first of two races in Montreal. During Race 1, PARIS had a couple looks at 3rd, but couldn't quite get it done.  As a result of finishing fourth, that's where EMS started in Race 2. But this time, Weiland executed a pass early and held on to the third overall position in the Trofeo Pirelli pro class while securing his sixth podium finish of the season.
"F1 weekend is a great opportunity for us to raise awareness for PETA Cruelty Free, Coach Sam's Inner Circle Foundation and Cornerstone of Hope," Weiland added. "With the thousands of race fans pouring in all weekend long, we really wanted to get each of those tremendous causes up onto the podium. Really proud of the team for working hard and working together to accomplish that goal."
People for the Ethical Treatment of Animals (PETA) is the largest animal rights organization in the world, with more than three million members and supporters. Products proudly displaying the bunny logo are cruelty-free, meaning that they were produced without testing on animals. Coach Sam's Inner Circle Foundation's mission is to provide educational support to at risk children through a combination of literacy, personal development and health and fitness programs designed to develop the whole child. Cornerstone of Hope, meanwhile, provides support, education, and hope for the grieving.
During the F1 race, Sebastian Vettel capped off the Ferrari Challenge celebration by capturing the Canadian Grand Prix victory 40 years after Gilles Villeneuve's triumph for the Scuderia at the circuit which now bears his name. Mercedes' Valtteri Bottas finished second, with Red Bull's Max Verstappen completing the podium.
For more behind the scenes coverage of the Ferrari Challenge in Montreal visit EMS Race Team on Facebook, Twitter and Instagram.