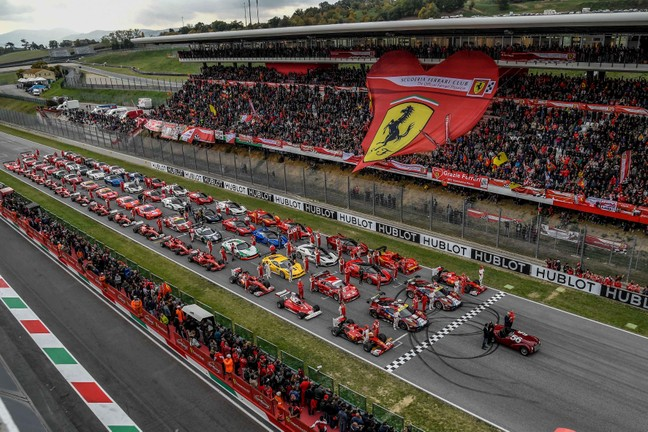 Over 40,000 fans poured into the Mugello Circuit in Italy during the 2017 Ferrari Finali Mondiali. Those crowds watched drivers from across the world compete over three days of racing in the marquee season-ending Ferrari Challenge event. They were also introduced to the causes that EMS Race Team has competed to raise awareness for all year—PETA Cruelty Free, Cornerstone of Hope, and Coach Sam's Inner Circle Foundation. While the racing results weren't what EMS hoped for, the team took pride in being able to spread the word for those tremendous causes on a global stage throughout the weekend.
"The racing didn't go the way we hoped," driver James Weiland said of the results on the track at Mugello. "We had some issues with the car during our first qualifying session and that had us starting P8 for Race 1 which was a tough spot to climb back from. But we were proud of how we competed from there, and we did some things we were happy with during the weekend. Most of all, though, we were proud to represent PETA Cruelty Free, Cornerstone of Hope and Coach Sam's Inner Circle Foundation on a worldwide platform like the Ferrari World Finals in Italy. It was great to be able to interact with fans and drivers from different countries who saw those logos on our car and explain to them what each mission was all about."
During Race 1, Erin, the ems+ Ferrari 488 Challenge, started 8th in class (21st overall out of 45) and picked off a couple cars early before driving a steady race from there to finish 6th in class (15th overall). Ironically, that would've been good for a podium in the next class up. In Race 2, Erin started 8th again moving all the way up to 5th in class prior to a highly dubious post-race penalty being assessed. On Sunday in the world finals, Weiland started 13th and finished 11th.
"With the Finali Mondiali signaling the end of the 2017 Ferrari Challenge season, I wanted to thank our Boardwalk Ferrari and Rossocorsa Teams," Weiland added. "I'd also like to thank our coach, Conrad Grunewald, along with Ryan Negri, Rudy Courtade, Dave and Daryl Cameron, and everyone else who helped support everything we were able to accomplish this season. It was a great ride and we're looking forward to next year already. We also wanted to thank PETA Cruelty Free, Cornerstone of Hope, and Coach Sam's Inner Circle Foundation for everything they do for our community. We're looking forward to representing those missions again next season."
For more on Cornerstone of Hope, Coach Sam's Inner Circle Foundation and PETA Cruelty Free you can visit their websites. To check out behind-the-scenes coverage from the Finali Mondiali in Italy visit EMS Race Team on Facebook, Twitter and Instagram. To everyone who has been following along on social media all season, posting comments on Facebook and interacting on Twitter and Instagram, EMS Race Team would like to thank you too for all the support!