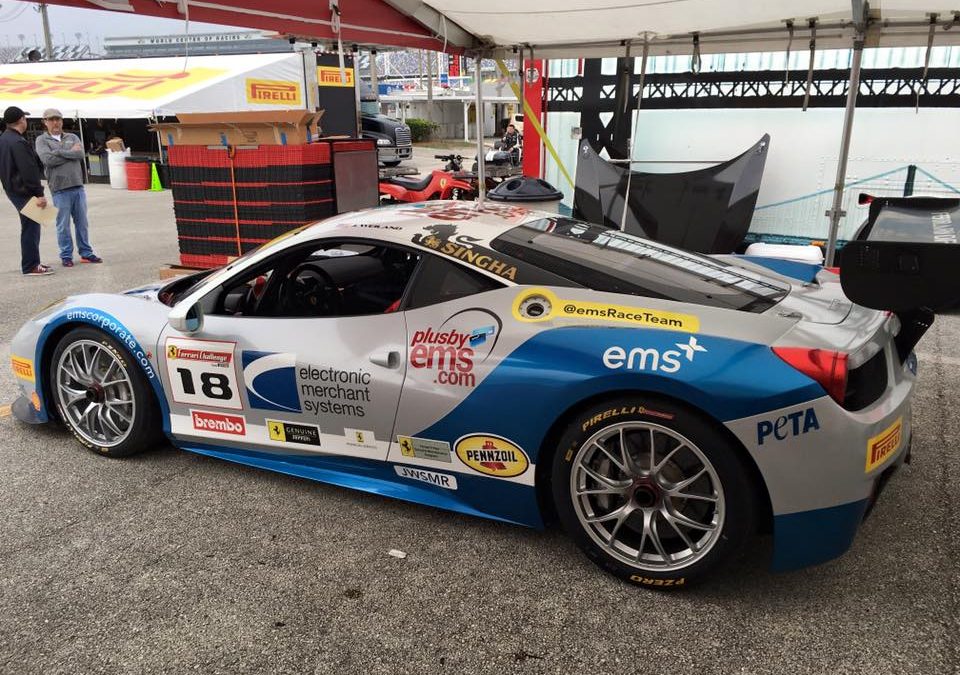 EMS Race Team will bring significant momentum to Daytona International Speedway to begin the 2016 Ferrari Challenge Schedule on January 28. Driver James Weiland and the Ferrari of San Francisco crew closed out the 2015 campaign by securing two victories in Mugello, Italy during the Finali Mondiali in November. This served to bookend a season that began on the track at Daytona with a Race 1 victory last January. Competing for the second-straight year in the Trofeo Pirelli AM class, Weiland is excited to continue raising awareness for the charitable efforts he holds close to his heart by racing at a high level in Florida.
"We felt good as a team about the way we finished in Italy last season and we're looking forward to building on that success in Daytona," Weiland said. "The competition will be increasingly stiff, and we know how hard we'll have to work to get back onto the podium. But we're excited about the challenge along with the opportunity to race at a great track against the best Ferrari drivers in North America."
Weiland will continue racing to raise awareness for the PETA Cruelty Free Campaign along with the Cornerstone of Hope Foundation throughout the 2016 circuit. Those decals will once again be proudly featured on the ems+ Ferrari Challenge 458 EVO, which will also hit the track with an updated design on a new car named Paris. The name was chosen in honor of a beloved family dog that passed away. It may even be in action at times alongside EMS Race Team's original car, Erin.
"We're definitely excited to get Paris onto the track during her first race at Daytona," Weiland added. "Paris features a newer design, with a royal blue theme throughout the car. Erin will continue to feature more of the red-themed design. In either case, we're hoping the PETA and Cornerstone logos can keep helping us run a little faster whenever we need that extra boost."
Paris made an unofficial debut at Daytona in early January for a practice session following a shakedown run at The Thermal Club. During her second lap of the morning, Weiland lost her for a brief instant at 120 mph+ in the LH Kink. Fortunately, however, with 180 degrees of wheel he was able to keep her on the road and moving forward. There's nothing finer than a good save, and once she let her feelings be known and got realigned, Paris ran great for the rest of the day. Hopefully she keeps that going for Weiland and company when the season begins for real later this month.
For updates throughout the Ferrari Challenge weekend along with live-timing race results, follow @EMSRaceTeam on Twitter and Facebook. Also be sure to check out EMS Race Team's Vimeo Page for behind-the-scenes action following the competition.