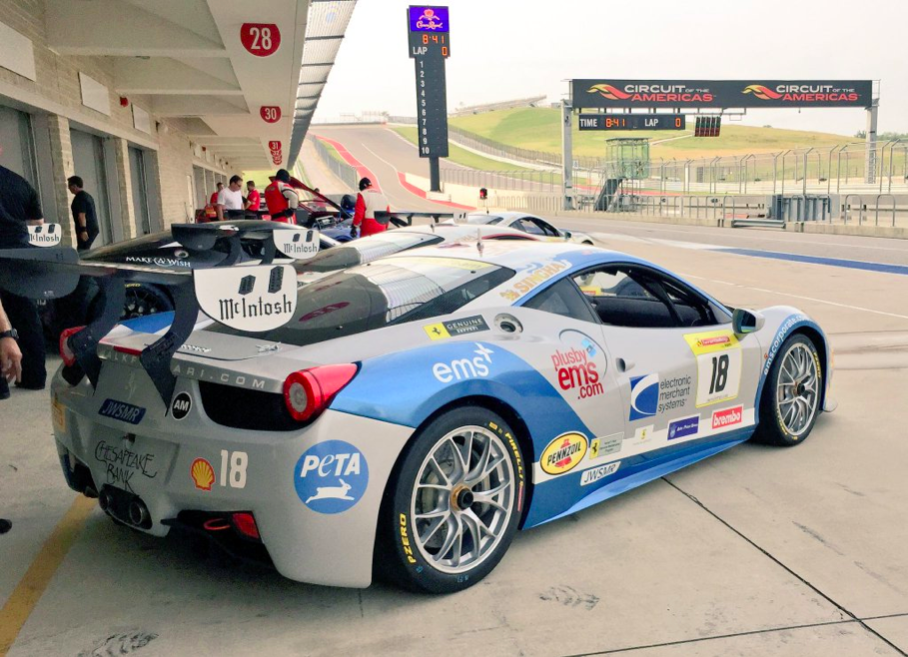 Mario Andretti once said that a racing car is an animal with a thousand adjustments.
During the 2016 Ferrari Challenge at Circuit of the Americas, EMS Race Team's coaches and crew helped make every adjustment necessary to put their young thoroughbred in a position to succeed. By the end of the competition, Paris—the ems+ Ferrari Challenge 458 EVO—capitalized on the collective effort by securing a pair of first-place finishes in the Trofeo Pirelli AM class.
Rudy Courtade, along with Dave and Daryl Cameron, Andrew Prendeville and the rest of the Boardwalk Ferrari crew had Paris dialed in all weekend long. She started fast in practice and carried that momentum throughout each race. EMS Race Team driver, Jim Weiland, delivered two technically sound performances from there on an extremely challenging course to earn multiple victories amongst a deep and talented field.
"Circuit of the Americas is a long track which means there's a lot of places to make mistakes," EMS Race Team coach Conrad Grunewald said following the Race 1 victory at COTA. "So really putting a good a lap together here is rough. It takes a lot of focus and a lot of fine-tuning. This weekend, Jim's doing a great job of that."
Coach @ConradGrunewald discusses the unique challenges presented by the #COTA track following Race 1 in Austin pic.twitter.com/vlSApqWmFf

— EMS Race Team (@emsRaceTeam) May 14, 2016

According to Ferrari.com, Weiland and Paris were "unstoppable" throughout Race 1 as they led in class from start to finish. Meanwhile, teammates Matt Keegan of sister dealership Ferrari of San Francisco and Jean-Claude Saada of Boarwalk Ferrari finished 1-2 in the Coppa Shell division. The double victory for Boardwalk Ferrari/Ferrari of San Francisco led to a wave of enthusiasm in the garage on Sunday, and Weiland would ride that back onto the track for Race 2.
"It's like a rocket-powered victory," Boardwalk Ferrari team partner Ryan Negri said on Sunday in regards to Weiland and Keegan's Race 1 wins. "The team is excited, the team is pumped up. It's the first double-victory of the year for us. Jim has won here a couple times before, so we're going to see if we can do it again today. It's amazing."
Ryan on the team momentum @ferraridallas is feeling after victories in both Coppa Shell & Trofeo Pirelli AM at COTA pic.twitter.com/Z0zlCH4gSR

— EMS Race Team (@emsRaceTeam) May 15, 2016
After finishing 1st in class and 7th overall in Race 1, Weiland did do it again by finishing 1st in class and 5th overall in Race 2. Paris earned pole position in qualifying for both races and held onto that spot throughout. She did her sister Erin proud, who won twice at COTA in 2014, while notching her first two victories on the Ferrari Challenge circuit.
"I really can't thank my team enough for putting us in a position to achieve everything we did this weekend," Weiland said. "Everyone chipped in and did a tremendous job. The competition was extremely stiff and it's quite an honor to leave Austin with two first-place trophies especially considering how well my competitors drove."
The Ferrari Challenge field at COTA was the largest of the season with over 40 drivers in each race. To help celebrate the victories, EMS Race Team's reserve driver joined Weiland on the podium and garnered the majority of cheers. Courtade would also join Weiland on Sunday while accepting the Coppa Team Award for the event.
Both driver & reserve driver on the 1st place podium at @circuitamericas to celebrate the victory! #FerrariChallenge pic.twitter.com/9WIgwYfgqp

— EMS Race Team (@emsRaceTeam) May 14, 2016
"We dedicated Race 1 to the PETA Cruelty Free campaign and were thrilled to help raise awareness for their effort with the win," Weiland added. "We were equally excited to do the same in Race 2 for the Cornerstone of Hope, and we really encourage people to check out their websites and learn as much as they can about the contributions they make to our community. Celebrating wins like this with our team is a great experience, but it means so much more whenever people take the time to learn about those causes along the way."
Honored to dedicate our Race 1 victory at @circuitamericas to the @peta cruelty free campaign! pic.twitter.com/6ipTASfde0

— EMS Race Team (@emsRaceTeam) May 14, 2016
Happy to dedicate our Race 2 victory to the @ClevelandCOH and the great work they do for our community! pic.twitter.com/j9UpLzCvmw

— EMS Race Team (@emsRaceTeam) May 15, 2016
For more behind-the-scenes coverage of the Ferrari Challenge at COTA check @emsRaceTeam on Twitter and Facebook. Also be sure to visit EMS Race Team's Vimeo Page for on-track video action.
By Brendan Bowers