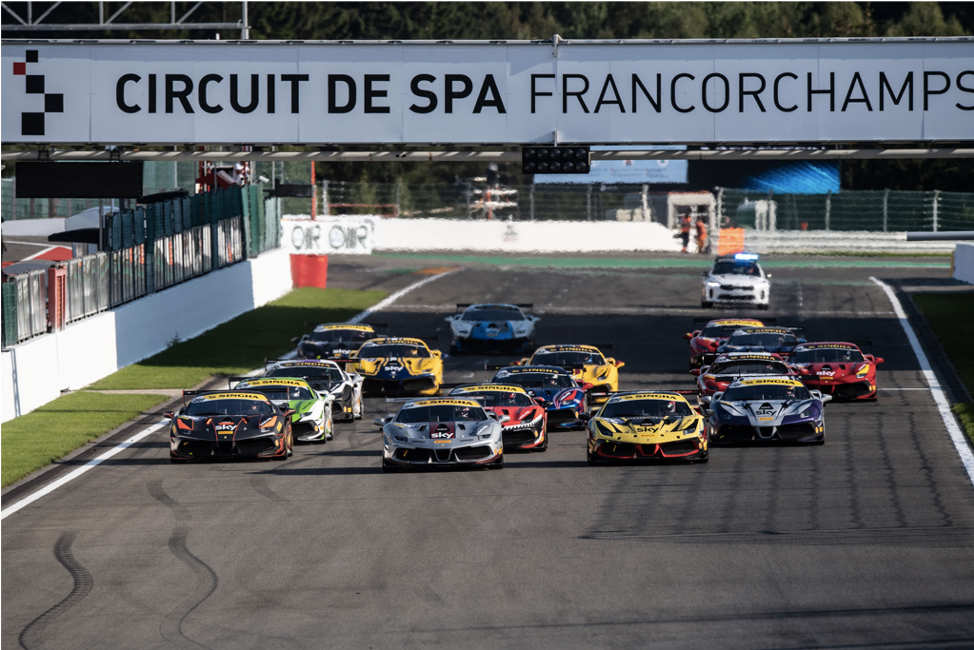 EMS Race Team reminded us during the Ferrari Challenge at Circuit de Spa-Francorchamps in Belgium that it's not where you start the race it's where you finish. Driver James Weiland and his team from Ferrari of San Francisco, R3 Motorsports and Rossocorsa started each race at Spa in sixth position. But despite that, Weiland would offer a flurry of highlights in combination with technically sound driving to eventually net a pair of podium finishes.
Following a P2 effort Saturday, ERIN the Electronic Merchant Systems Ferrari 488 Challenge Evo closed the weekend with a P3 on Sunday. Throughout the trip, ERIN consistently lined up her opportunities with precision and moved past the competition one car at a time while securing two more trophies. After earning a victory in Barcelona to open the 2020 campaign, EMS Race Team now has four podium finishes in four races so far this season.
"ERIN did it again," Weiland said. "We rode her to the podium from our P6 start during each race and had a lot of fun racing with some very good guys. Special thanks to the Ferrari of San Francisco, R3 Motorsports and Rossocorsa team, especially David Cameron and Ray Banda along with coach Conrad Grunewald."
During Race 1, Weiland earned "Move of the Day" honors from Ferrari Racing for executing a flawless pass. After lining up driver Ernst Kirchmayr who was running in P3, Weiland capitalized on a turn to move past the 109 car along the outside and never looked back. Later in the race he'd make a similar pass to help secure the second position overall after starting sixth. He'd later explain that the team dedicated their performance to the three charities they race to raise awareness for during the trip to Spa.
Did you see that?!
If you didn't – no worries. You can rewatch the #FerrariChallenge #MoveOfTheDay at @circuitspa again, right here. Amazing overtake of #Weiland on #Kirchmayr! #Ferrari488ChallengeEvo#FerrariCorseClienti #FerrariRaces pic.twitter.com/CjxVpZEl6U

— Ferrari Races (@FerrariRaces) September 12, 2020
"We dedicated our race weekend in Belgium to PETA Cruelty Free, Coach Sam's Inner Circle Foundation and Cornerstone of Hope," Weiland added. "We just wanted to thank them for everything they do with a solid effort on the track and hopefully we were able to accomplish that in some small way."
People for the Ethical Treatment of Animals (PETA) is the largest animal rights organization in the world, with more than three million members and supporters. Products proudly displaying the bunny logo are cruelty-free, meaning that they were produced without testing on animals. Coach Sam's Inner Circle Foundation's mission is to provide educational support to at risk children through a combination of literacy, personal development and health and fitness programs designed to develop the whole child. Cornerstone of Hope, meanwhile, is dedicated to providing support, education, and hope for the grieving.
For behind-the-scenes coverage from the Ferrari Challenge in Belgium visit EMS Race Team on Facebook, Twitter and Instagram.