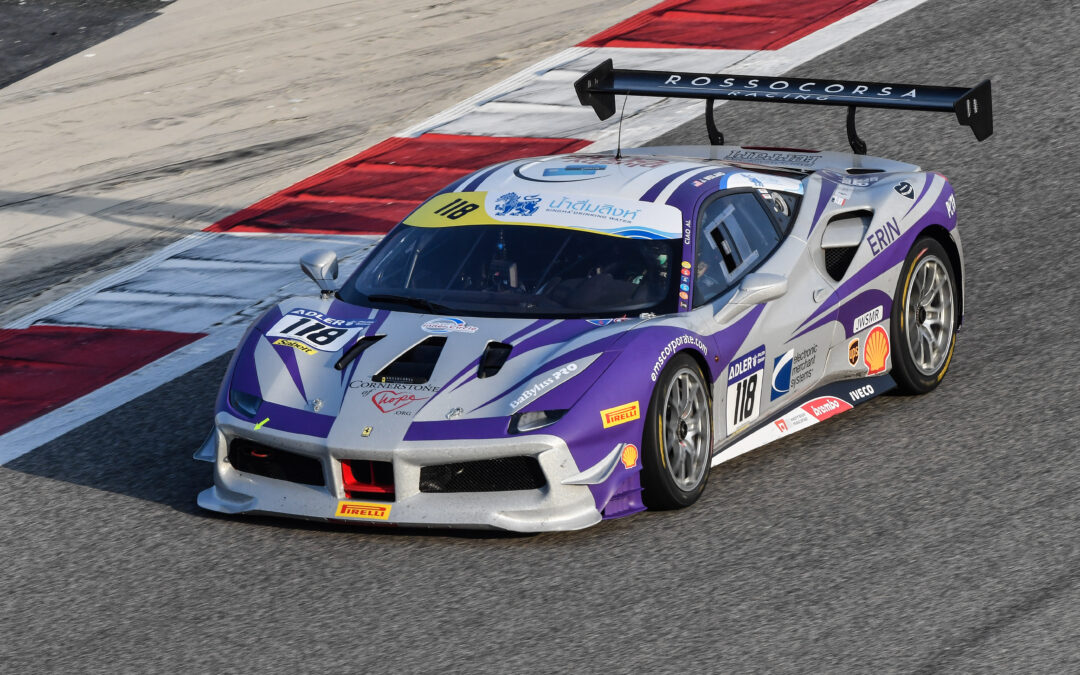 EMS Race Team competes in the Ferrari Challenge to help raise awareness for Coach Sam's Scholars. ERIN the ems+ Ferrari 488 Challenge Evo approaches the starting line of every race with the Coach Sam's logo proudly displayed on the hood of her car. The mission for the Coach Sam's team is to provide educational support to at-risk children in Cleveland, OH through a combination of literacy, personal development and fitness programs. It's a mission that EMS is proud to represent all over the world.  
Coach Sam's Scholars developed a winning playbook that has helped students succeed in the classroom and in life for over a decade. For years, passionate Coach Sam's tutors have entered elementary schools throughout Cleveland and spent countless hours working directly with students after school. But when Coach Sam's approached the starting line of the pandemic back in March, they quickly realized they'd need to run their race toward a better tomorrow in an entirely different way. 
"We were an after-school program with no school now to come after," Ori Akrish, Executive Director of Coach Sam's Scholars recalled. "So we had to completely reinvent the wheel."
The way that Coach Sam's Scholars continued to support at-risk children and their families during a pandemic that forced the Cleveland Metropolitan School District to go completely remote has been nothing short of remarkable. With every reason to pause an in-person program until schools opened back up, Coach Sam's made the inspiring decision to reach even more families. To accomplish this goal, they quickly executed three new initiatives all at the same time that have served as a saving grace for students and families throughout the year. 
"When schools first closed there was a lot of uncertainty," Akrish added. "One week in, the district announced they were going to close for a short time to conduct a deep cleaning. But we realized very quickly that this wasn't going to go away, and were able to pivot. 
"What we did was develop a three-pronged approach that includes virtual lessons, learning pods and drop-in centers to support families throughout the city."
To launch their virtual learning efforts, Coach Sam's Scholars forged a relationship with the Cleveland Public Library. What resulted from that venture was the Coach Sam's curriculum actually becoming a part of the school day for students at Andrew J. Rickoff Elementary. Everyday at 2pm during the pandemic, Coach Sam's instructors have been teaching literacy lessons through virtual platforms to 3rd, 4th and 5th graders during a time period that may not have otherwise been filled. 
School and our program may look a bit different, but we learn to thrive, come together and partner as a community. TOGETHER WE CAN continue to make an immediate and lasting impact for our scholars with Reach Success and the @RaineyInstitute @CLEMetroSchools pic.twitter.com/dSq99L9VH3

— Sam Rutigliano (@CoachSamICF) September 21, 2020
The second play that Coach Sam's called came after recognizing that Cleveland students had a much bigger need than some of the children from other districts outside the city. Specifically, CMSD students did not always have access to technology, a stable internet, or a place for their daily virtual lessons. In response, Coach Sam's Scholars stepped on the gas and created a partnership with the Rainey Institute and the Salvation Army to open free virtual learning pods for anyone in the district who signed up. Each pod now consists of up to nine students at a time and strictly follows CDC guidelines while working to provide additional support for virtual classroom lessons along with free lunches all week long. If not–with most parents in Cleveland being deemed essential workers–these students would otherwise be at home, alone, without the infrastructure required to even begin to learn.
Coach Sam Scholars: As the 1st quarter end and we enter the 2nd quarter. Remember that students can join us after school for tutoring/homework help. Monday-Friday from 4-6. We are here to help your student navigate their online classes. ? @CoachSamICF pic.twitter.com/KbhFduL31p

— Miss. Molly (@MsMollyCle) November 10, 2020
The third strategy that Coach Sam's simultaneously developed during the pandemic was an effort to support not just their students but also their students' families. With many adults throughout Cleveland struggling with literacy themselves, it's been difficult for some parents to help with their children's schoolwork. Instead of swerving out of the way, Coach Sam's Scholars drove straight toward this issue by helping to open drop-in learning centers for students and their families at multiple locations. These drop-in centers in Cleveland are currently staffed by Coach Sam's instructors who work with both parents and students on their school work.
"With everything we're doing, we've had much higher expenses with more staff in more places than years past," Akrish said. "But it's worth it. We continue to be motivated and inspired to do even more in the coming year."
During this holiday season, consider making a donation to support Coach Sam's Scholars in the name of a friend or family member. All contributions will help fuel these ongoing efforts to help students throughout Cleveland who might otherwise be left behind.