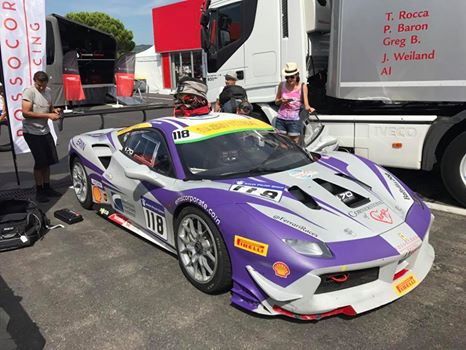 EMS Race Team is traveling around the world to raise awareness for PETA Cruelty Free, Cornerstone of Hope and Coach Sam's Inner Circle Foundation. This past weekend, they visited the Circuit Paul Ricard near Marseille in France. Marseille is the second largest city in France next to Paris, and the largest French city on the Mediterranean coast. After racing in California, Canada and Hungary this year, the trip marked the first time that driver James Weiland and EMS Race Team ever competed in France and second time racing overseas this season.
"It's been a great experience for us so far this season to travel around the world and see the different cultures that we've been able to visit," Weiland said. "It's also be an honor to represent PETA Cruelty Free, Cornerstone of Hope and Coach Sam's Inner Circle Foundation in the different countries we've competed. At the Circuit Paul Ricard, we dedicated the race weekend to Cornerstone of Hope's Annual Day of Hope Celebration and it was important for us to be able to highlight that tremendous event. The racing results weren't what we hoped for, but it was an experience that meant a lot to our whole team."
Neither one of the qualifying sessions went EMS Race Team's way at the Circuit Paul Ricard, which set up for challenging races on Saturday and Sunday. On their prime flyer laps, EMS was consistently disrupted by cars going slow on the racing line trying to get themselves a gap. While on pace for starting in the second or third row during qualifying, the traffic pushed EMS back starting inside row six. During Race 1, Erin, the ems+ Ferrari 488 Challenge, gained four positions and was running 7th before being punted by a competitor and rejoining in 16th position. She continued to fight, nonetheless, and finished 11th. On Lap 1 in Race 2, a competitor dived in from too far back and made contact to Erin's left rear quarter panel, spinning himself out, and at the same time also managed to knock Erin's left rear wheel and suspension out of whack. The damage left her resistant to high speed turning from there. Despite that adversity, she managed to hold position without a chance of moving up and finished 7th.
"Well, does a bad racing day in the South of France make for a bad day?" Weiland joked. "Not an ideal weekend results-wise, but France was nice for sure. Erin will race in the Pirelli World Challenge Sprint X race in early September at Circuit of The Americas and then it's on to England and Silverstone. Looking forward to those. Big thanks to Coach Conrad Grunewald for the driving help and Dave Cameron, Ray Banda, and Rossocorsa for keeping our Boardwalk Ferrari 488 Challenge car, Erin, in fighting shape all weekend."
For more on Cornerstone of Hope, Coach Sam's Inner Circle Foundation and PETA Cruelty Free check out their websites. For behind the scenes coverage of the Ferrari Challenge in France visit EMS Race Team on Facebook, Twitter and Instagram.