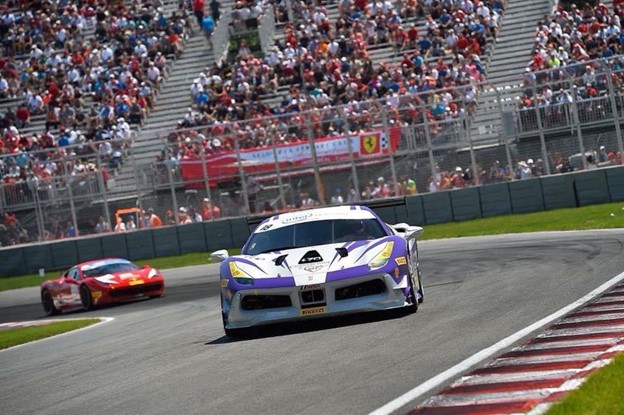 Driver James Weiland and EMS Race Team opened the 2022 Ferrari Challenge Europe schedule with a podium finish in Portugal before competing in France for Round 2. This weekend, Weiland—a Cleveland, Ohio native—and his team from Boardwalk Ferrari and Ferrari of San Francisco will be competing in the Ferrari Challenge North America Series.The team recently announced they were a late entry to the Ferrari Races in Montreal at Circuit Gilles Villeneuve on June 17-19 during F1 weekend in Canada.
Breaking News 🚨@emsRaceTeam is a last-minute addition to the @FerrariRaces in Montreal during @F1 weekend on June 17-19!#FerrariChallenge

— EMS Race Team (@emsRaceTeam) June 2, 2022
Circuit Gilles Villeneuve first hosted the Canadian Grand Prix in 1978. Past winners include Michael Schumacher, Jackie Stewart, Aryton Senna and Lewis Hamilton. The Mercedes Driver, Hamilton, won in 2019 the last time the event was held in Montreal before it was postponed due to health concerns.
EMS Race Team has competed in the Ferrari Challenge races at the legendary track in Montreal during F1 weekend several times before and it is always a memorable experience. The team's first race at Gilles Villeneuve was in '13, and they most recently earned a podium there in '19. Weiland and his team also won at the legendary track just north of the Great Lakes in '16 on their way to the Ferrari Challenge North American Championship that season.
"When we had an opportunity to enter the race in Montreal we jumped on it," Weiland said. "We really enjoy racing at Circuit Gilles Villeneuve and are looking forward to being in the beautiful city of Montreal. Hopefully we can represent well for PETA Cruelty Free, Cornerstone of Hope and Coach Sam's Scholars while we are there."
People for the Ethical Treatment of Animals (PETA) is the largest animal rights organization globally. Products proudly displaying the bunny logo are cruelty-free, meaning that they were produced without testing on animals. Coach Sam's Scholar's mission is to provide educational support to at-risk children through literacy, personal development, and health and fitness programs designed to develop the whole child. Cornerstone of Hope, meanwhile, is dedicated to providing support, education, and hope for the grieving. EMS Race Team will continue to race to raise awareness for each of their important missions during the Ferrari Races in Montreal.
A team effort that results in a podium finish or better will be the goal for Electronic Merchant Systems Racing Team on the track in Montreal. But they will also be keeping a close eye on the F1 race to watch the best drivers in the world compete for the Grand Prix win. The EMS Race Team Reserve Driver recently met Charles Leclerc of Ferrari who currently trails only Max Verstappen and Sergio Perez of Red Bull as the top-3 drivers in the points standings heading into the weekend.
EMS Race Team, meanwhile, will have a chance to score points in the Ferrari Challenge North American Series during the upcoming Ferrari Races. However, these results will not impact the Ferrari Challenge Europe Standings where EMS is slotted to race a partial schedule.
For more behind-the-scenes coverage of EMS Race Team throughout the season,  follow us on Facebook, Twitter and Instagram for the latest news and updates.
Visit this link to stream the racing action live from Montreal:
https://www.ferrari.com/en-EN/corse-clienti/live-ferrari-challenge-montreal