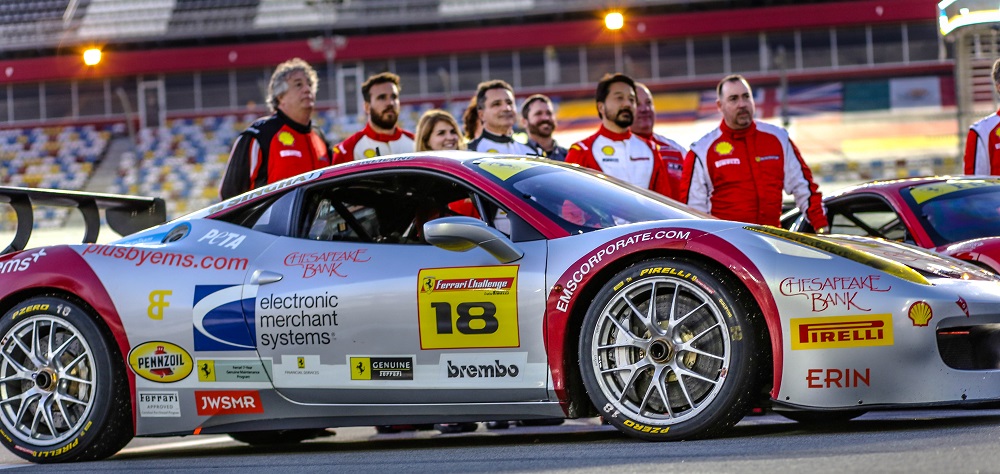 The Ferrari of San Francisco team had Erin, the ems+ Ferrari Challenge 458 EVO, ready to race as the 2015 season began at Daytona International Speedway. The competition was stiff, as expected, but the season started off well for the team from Cleveland, Ohio who left Florida with a Race 1 victory.
The No. 18 car driven by James Weiland qualified 2nd in class and 7th overall before winning a hard-fought battle with competitor Robert Herjavec. The 007 car driven by Herjavec finished in second place during Race 1 before winning on Sunday. The No. 518 car driven by Arthur Romanelli finished in third.
VIDEO: @robertherjavec chases @emsRaceTeam during 1st #FerrariChallenge race at @DISupdates. http://t.co/3OGOziC8YC pic.twitter.com/Bd88EOZHAV

— Pennzoil (@Pennzoil) January 28, 2015
During Race 1, Weiland took the lead in the first corner. He was able to maintain that lead the entire race despite intense pressure, and it was the ems+ car that brought the PETA Cruelty Free Bunnies across the finish line first.
"Nothing is more fulfilling for me and my team than to see the PETA Cruelty Free Bunnies cross the finish line in first place," Weiland said. "Those are the days we always get the most questions about PETA and about what the Cruelty Free campaign means. It's always fun to reply by saying that the bunnies helped us win, too, because they did."
Prior to the start of Race 1, the Ferrari Challenge competitors gathered on the Daytona track for a group picture. The lovely Erin was also asked to be included in the official shot.
Ferrari Challenge drivers group photo with Erin on left #FerrariChallenge #Daytona #Erin pic.twitter.com/1qFjq3B2cs — EMS Race Team (@emsRaceTeam) January 22, 2015

During Race 2 on Sunday, an unscheduled pit stop on the warm-up lap caused the ems+ car to begin in 29th position. Weiland was able to pass a significant amount of cars early on, however, and managed a respectable 5th place finish (9th overall).
(EMS Race Team via Vimeo)
"We did have an electrical problem on the pace lap which required a pit stop during Race 2," Weiland said. "But I was proud of my team, how quickly they resolved the issue, and we were able to rejoin the race and pick off some cars and run well from there. All in all, there were a lot of positives during our first weekend and we're looking forward to building on that in Homstead."
(EMS Race Team via Vimeo)
The next Ferrari Challenge race on the schedule will be in Homestead on March 6-8. For more racing action check out ems+ racing team's page on Vimeo.