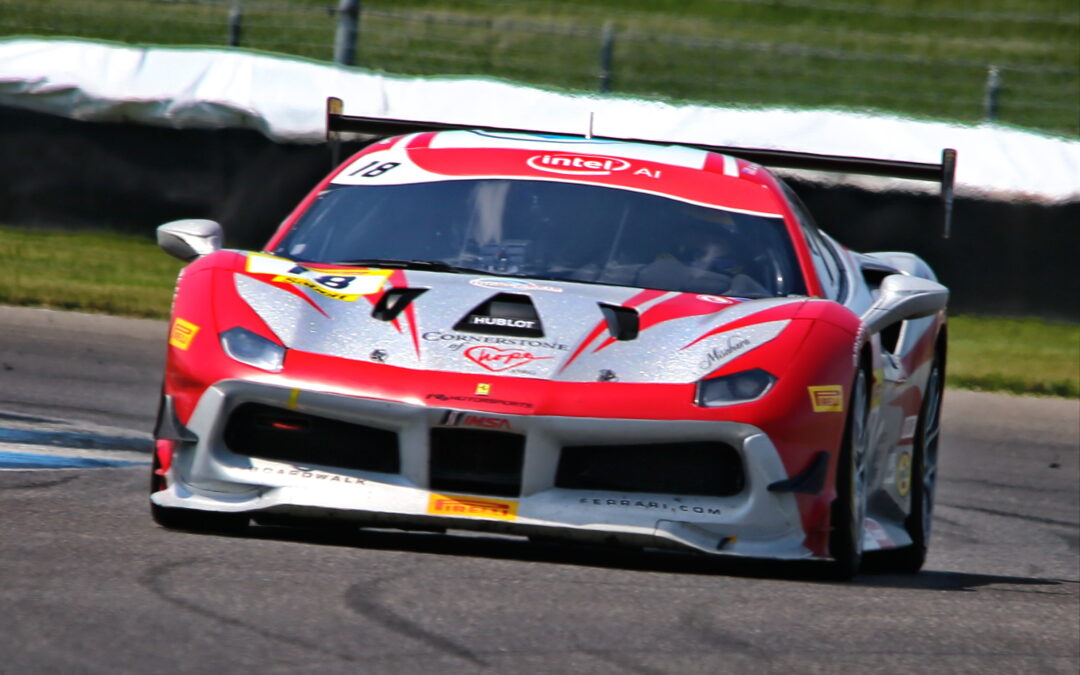 The great Formula One champion, Lewis Hamilton, once described his racing career by saying, "There have been some ups and some downs but that's the way racing is supposed to be." Following two-straight race weekends highlighted by back-to-back Ferrari Challenge victories, EMS Race Team was forced to come back down off the podium at the Indianapolis Motor Speedway. After wins at Le Mans in France and the Nürburgring in Germany, driver James Weiland and his team from Boardwalk Ferrari / Ferrari of San Francisco finished outside of the top-three during their trip to the Brickyard. In two races at IMS, Weiland and PARIS the ems+ Ferrari 488 Challenge finished in 5th and 10th while continuing to raise awareness for PETA Cruelty Free, Coach Sam's Inner Circle and Cornerstone of Hope.
"PARIS had a good day on Saturday," Weiland said. "She qualified 7th though only .4 off pole position. We picked up a position at the start and another a couple laps in and finished 5th. But we struggled on Sunday when we qualified 10th and finished the race in that position. That's racing, though, sometimes you're up and sometimes you're down. But I know our team will bounce back in Singapore."
Even though EMS Race Team didn't win, they still had the opportunity to spread the word about PETA Cruelty Free, Coach Sam's Inner Circle and Cornerstone of Hope to the racing fans who were at the Brickyard. The team will do the same when they compete at the Marina Bay Circuit in Singapore next time out in September. People for the Ethical Treatment of Animals (PETA) is the largest animal rights organization in the world. Products proudly displaying the bunny logo are cruelty-free, meaning that they were produced without testing on animals. Coach Sam's Inner Circle Foundation is driven by a mission to provide educational support to at risk children through a combination of literacy, personal development and health and fitness programs designed to develop the whole child. Cornerstone of Hope, meanwhile, is dedicated to providing support, education, and hope for the grieving.
"It's always special for us to be able to help raise awareness for PETA Cruelty Free, Coach Sam's Inner Circle and Cornerstone of Hope when we race at a venue for the first time," Weiland added. "To be able to do that at a famous track like the Indianapolis Motor Speedway is even more special. Next time, when we're in Singapore, hopefully we'll be able to get them up onto the podium."
For behind the scenes coverage of the Ferrari Challenge at the Indianapolis Motor Speedway, follow EMS Race Team on Facebook, Twitter and Instagram.