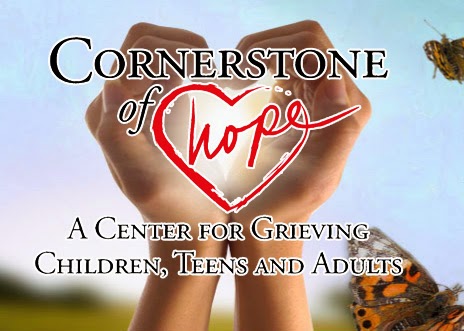 Cornerstone of Hope is dedicated to providing support, education, and hope for the grieving. Guided by Christian values of compassion and service, the non-profit organization in Cleveland, Ohio welcomes and serves all seeking support. To help shed light on their tremendous work, EMS Race Team races to raise awareness for Cornerstone by featuring its logo on the hood of its Ferrari Challenge Car.
On Tuesday, June 23, Cornerstone held its Annual Hope Day celebration and the EMS+ team was on hand. The courtyard area at Cornerstone's headquarters was transformed into a carnival for kids, and inside their were games, prizes, food, a photo booth, and fun for all who attended.
"We provide a full activity day for the families to come out between 6-8pm and play all sorts of carnival games," Rachel Rego, Marketing Director with Cornerstone of Hope, said. "We have hot dogs, popcorn, chips, cookies and we also have tons of prizes for the kids to win. The kids get to go home with all sorts of really cool items. We even have a slip and slide down the hill out back."
With the weather cooperating, the slip and slide was a massive hit. Kids were running from the bottom of the hill to the top for another chance to slide down in the summer sun. Genevieve Fowler, who we spoke with out back near Cornerstone's state-of-the-art treehouse, talked about what Cornerstone's Day of Hope means to her and her family.
"This is my second year here at Cornerstone of Hope for Hope Day," Fowler said. "I came here with my mother, my niece, my daughter and my son. We lost my sister, Jacqueline Pugliese, in February of 2013. This day represents a fun day for kids. It represents a day of hope, a day of energy, a day of smiles. It brings kids together in a different way when they're struggling with their daily routine and the fact that a loved one is gone from their lives. It gives them hope that the people surrounding them can help them through a tough time. The smile, the laughter, it's overwhelming that this type of place can provide the hope that it does."
Earlier this year, Cornerstone's Annual Fund letter featured the Fowler-Pugliese family, describing Genevieve's story. That letter is below, helping to illustrate the real impact that Cornerstone makes on the many lives they touch.
The smile and laughter throughout the day was truly overwhelming, and Cornerstone's Day of Hope was a truly special event to be a part of. We were happy to have been there to feel the energy of healing and love that permeated all in attendance. To get involved with Cornerstone of Hope, and help support their mission, visit their website: Cornerstoneofhope.org.