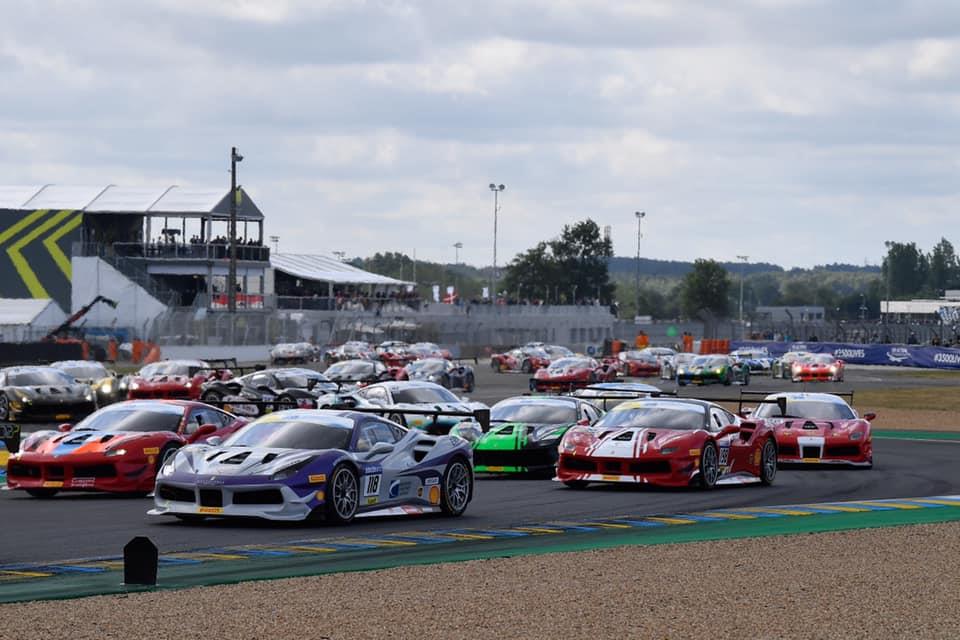 EMS Race Team turned in their best performance of the year at the Le Mans Ferrari Challenge in France last month when they earned pole position, a first-place finish and the fastest lap while competing in a support race for the 24 Hours of Le Mans. Now, driver James Weiland and his crew from Boardwalk Ferrari / Ferrari of San Francisco will set their sights on the Nürburgring in Germany. The team will look for a similar result while racing to raise awareness for PETA Cruelty Free, Coach Sam's Inner Circle Foundation and Cornerstone of Hope during the Ferrari Challenge event scheduled for July 5-7 in Nürburg, Germany.
"We're looking forward to getting on the track in Germany," Weiland said of the upcoming weekend. "We were able to have some success during our last race and hopefully we can carry some of that momentum over to the Nürburgring. Regardless of the outcome, though, we expect this to be a fun and challenging course to drive and are hoping to put forth our best effort while we're there."
The Nürburgring is a 150,000 person capacity complex located in the town of Nürburg, Rhineland-Palatinate, Germany. It features a Grand Prix race track built in 1984 that has played host to the Formula One Grand Prix, European Grand Prix, the German Grand Prix and the Ferrari Challenge among other notable racing events. Previously surrounding the Grand Prix course at the Nürburgring was a much longer "north loop" track that was built in 1927 around the village and medieval castle of Nürburg in the Eifel mountains.
"This is a new track for us," Weiland added. "So whenever we get the chance to travel to a new venue our goal is always to raise as much awareness as we can for PETA Cruelty Free, Coach Sam's Inner Circle Foundation and Cornerstone of Hope. The best way we can do that is to get each of those foundations up onto the podium so that will be our goal throughout the weekend."
People for the Ethical Treatment of Animals (PETA) is the largest animal rights organization in the world, with more than three million members and supporters. Products proudly displaying the bunny logo are cruelty-free, meaning that they were produced without testing on animals. Coach Sam's Inner Circle Foundation's mission is to provide educational support to at risk children through a combination of literacy, personal development and health and fitness programs designed to develop the whole child. Cornerstone of Hope, meanwhile, is dedicated to providing support, education, and hope for the grieving.
For behind the scenes coverage of the Ferrari Challenge in Germany throughout the weekend, be sure to follow EMS Race Team on Facebook, Twitter and Instagram.