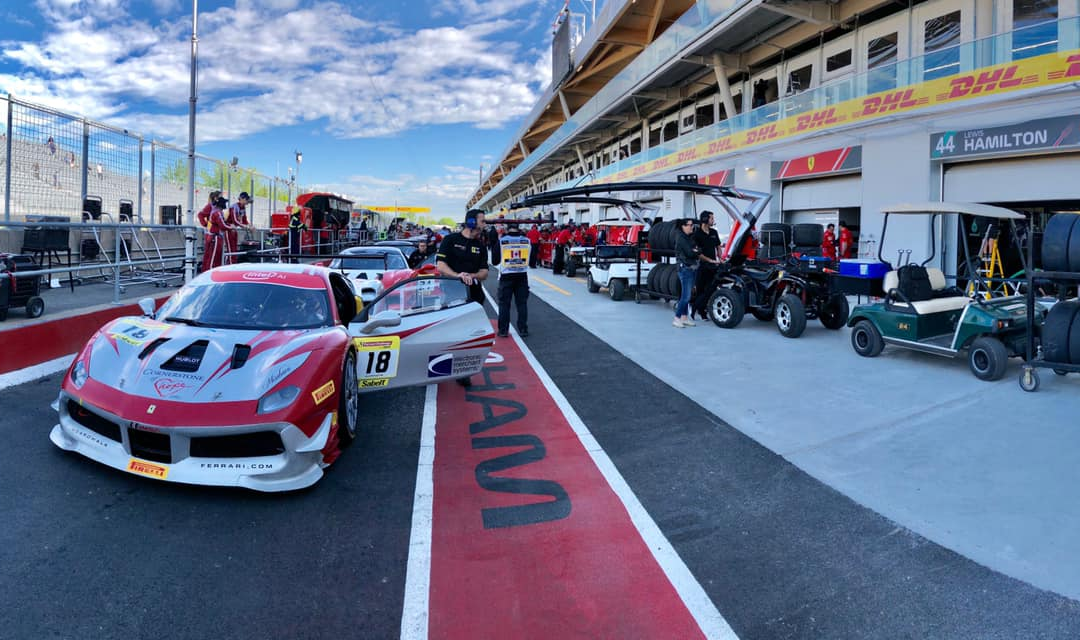 EMS Race Team made their sixth stop along the 2019 Ferrari Challenge circuit a memorable one. Competing at Circuit Gilles-Villeneuve in Canada during F1 weekend, driver James Weiland and his crew from Boardwalk Ferrari / Ferrari of San Francisco earned their fifth podium finish of the season in front of a capacity crowd in Montreal. While racing PARIS the ems+ Ferrari 488 Challenge trimmed in red, Weiland shook off contact twice on the first lap to move up a spot and finish P2 overall out of 30 drivers.
PARIS qualified in third position for Race 1 on Saturday before going on to secure the second step on the podium. She'd follow that up with a P4 finish in Race 2 on Sunday. The Ferrari Challenge in Canada served as a support race for the Formula 1 Canadian Grand Prix. Lewis Hamilton of Mercedes won the F1 race while Ferrari drivers Sebastian Vettel and Charles Leclerc rounded out the top three.
"It's always nice to be on the F1 podium here at the Circuit Gilles-Villeneuve in front of a 100,000 people," Weiland said after the race. "Our team races to raise awareness for PETA Cruelty Free, Coach Sam's Inner Circle Foundation and Cornerstone of Hope so it's always a great opportunity to have some success during events like this."
People for the Ethical Treatment of Animals (PETA) is the largest animal rights organization in the world, with more than three million members and supporters. Products proudly displaying the bunny logo are cruelty-free, meaning that they were produced without testing on animals. Coach Sam's Inner Circle Foundation's  mission is to provide educational support to at risk children through a combination of literacy, personal development and health and fitness programs designed to develop the whole child. Cornerstone of Hope, meanwhile, is dedicated to providing support, education, and hope for the grieving.
EMS Race Team will continue to help raise awareness for those causes later this week as they now travel to Le Mans in France for the Ferrari Challenge on June 13-16. EMS has competed in France before but never raced the famous Le Mans track. In 2017, they competed at the Circuit Paul Ricard. Le Mans, meanwhile, is located in Sarthe, France and is one of the most prominent venues in the world. During Ferrari Challenge weekend it will also be hosting the 24 Hours of Le Mans on a track where up to 85% of the lap time is spent on full throttle.
"We certainly enjoyed a great team effort in Montreal but now it's off to Le Mans," Weiland said. "It was hard, fun racing in Canada and we expect the same later this week. We have an opportunity to compete on a fabled circuit in France prior to the start of the 24 and we hope to take advantage of that opportunity with another solid team effort."
After racing PARIS in Montreal, Weiland will be moving over to ERIN the ems+ Ferrari 488 Challenge trimmed in purple for Le Mans. The Ferrari Challenge race is scheduled to go off at 10:15am local time on Saturday followed by the 24 Hours of Le Mans starting at 3pm local time later that afternoon. It is one of the most highly anticipated racing weekends of the year and it's exciting to see that EMS Race Team will be a part of the festivities.
For behind the scenes coverage of the Ferrari Challenge in France throughout the weekend at Le Mans, be sure to follow EMS Race Team on Facebook, Twitter and Instagram.